Contents
With Chinese investment, hotels and casinos have proliferated in Sihanoukville, Cambodia in recent years. But now many buildings are empty.
In the city center, on the edge of the big roundabout with golden lion statues, tuk tuk drivers are waiting for customers. One of these drivers says a lot of money was made here before the pandemic. Chinese customers paid well. Now the tuk-tuk driver produces side fight cocks that he wants to sell for a small profit.
The casino boom only lasted a few years. Meanwhile, many of them have closed again or not even opened for business. Not far from the roundabout, a casino is open. An employee explains that only the first floor is in use. There are no visitors, the colorful and noisy machines wink all by themselves.
Debt instead of casinos
Real estate broker Heng Makara says the decline in the gambling industry has also affected the city's real estate market. Cambodian entrepreneurs, who would borrow a lot of money to build the property, were left with debts as the Chinese stayed away.
It's not just the Covid pandemic that's responsible for ending the casino boom. About six months ago Cambodian authorities banned online gambling. Organized crime had come to the city, along with barely controlled gambling. The so-called "cyber slaves" made international headlines – many Chinese were lured to Cambodia on false promises and forced to defraud their compatriots online.
"Not everyone was defrauded, some were voluntarily defrauded," says a Chinese businessman who runs a drinking water delivery service. He does not want to be named, he belongs to the Chinese minority who returned to Cambodia after the pandemic. The casino boom doesn't seem to have missed their time. It was dangerous back then, he did not dare to go out alone at night.
Children have to beg for food
A little girl plays on bare concrete floor, holding a wooden board with rusty nails. She lives on the ground floor of a building envelope with her sister and family. Without windows, doors or walls.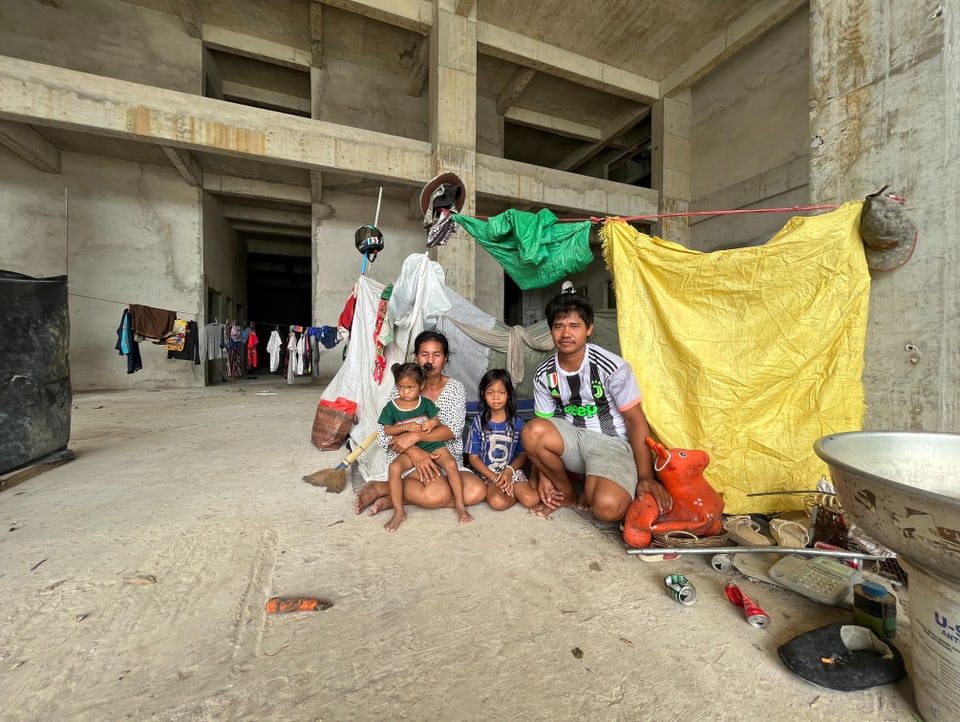 "We were working in road construction," explains Anne. From one day to the next, the manager in charge fled. The family no longer has money to buy food. Mom says they're searching the markets for discarded food. He also sends children at night to beg for food.
It is unclear whether many of the buildings in Sihanoukville will be completed. Some have become modern relics overgrown with plants. They look like giant monuments to big investment projects.